Welcome to Eagle Metal Industries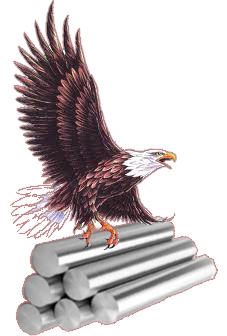 We take immense pleasure in introducing ourselves as one of the leading Importer, Stockists & Suppliers....
1) STAINLESS STEEL : Seamless / Erw PipesSqure pipe, Sheets,Coil,Plate,Flate, Perforated Sheets, Circles, Rods,pipe fittings, Wire, Wire – Mesh, Angles, Channels,, etc. Of Grades TP-304, 304L, 316, 316L, 321, 309, 309S, 310, 409, 410, 410S, 420, 430, etc.
2) CARBON STEEL : Seamless / Erw Pipes, Sheets, Perforated Sheets, Plates, Rods, Wire, Wire-Mesh etc. Of Grades ASTM A-106 GR B, A-333 GR. 1 & 6 IS 1239 & 3589, etc.
3) ALLOY STEEL : Seamless / Erw Pipes, Sheets, Plates, etc. Of grades of ASTM A-335 GR, P1, P5, P9, P11, P12, P22,etc. ASTM A-387 GR., 515/516 GR., 60, 70 & IS 2062 etc.
4) NON-FERROUS METAL : Copper, Brass, Aluminum, Phosper - Bronze, Monel, Nickel,Lead Inconnel, Zinc, Hastalloy B & C, Titanium, Cupro - Nickel, Gun - Metal, etc. In the form of Rounds, Plates, Sheets, Wires, Circles, Flats & Tubes.
Our Materials undergo strict Quality Inspection approved by any THIRD PARTY INSPECTION AGENCIES & GOVERNMENT LABORATORIES.
We are registered & have supplied the above items to various Govt./Public/Pvt. Sector undertakings As per required specifications.
So we humbly request you to favour us the honour of being as your list of suppliers & by mailing all your Valuable enquiries as and when demand arises.
If you have any REGISTRATION FORM, please send us to forward the same duly filled in all respects. Assuring you our best attentions & hoping your earliest reply.